"I CROSSED THE EAST RIVER ON THE ROOSEVELT ISLAND TRAM"
MOEBIUS HEAD BAND (OR BELT) FOR MY KEEPON
(Can also be worn by people as a regular bracelet!)
See movie
Head Band and Belt for My Keepon
Hear
"Crossing The East River On The Roosevelt Island Tram"
– original lyrics by Jonathan Kalb & Ovidiu Opresco, sung by Jonathan Kalb.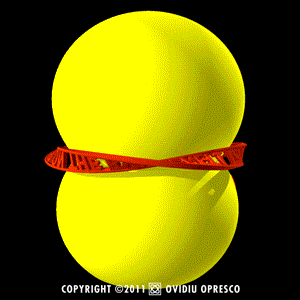 NOTE: My material of choice would be Gold Plated Stainless Steel; but I opted for Red Strong and Flexible to avoid the possiblity that the weight of steel would imbalance My Keepon.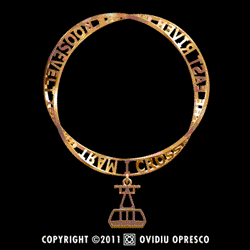 See my other Roosevelt Island Tram designs here:
The New Roosevelt Island Tram Earrings
The New Roosevelt Island Tram Cuff-Links
The New Roosevelt Island Tram / Pendant / Keyring
Pendant / Keyring with Roosevelt Island Tram
Keyring with Roosevelt Island Tram
Soccer Ball with Roosevelt Island Tram inside
Slice of Big Apple with Roosevelt Island Tram
Big Apple with Roosevelt Island Tram inside
Ring with Roosevelt Island Tram
Geocube with Roosevelt Island Tram inside