One of the dice is labeled 8-6-5-4-3-1, the other is labeled 4-3-3-2-2-1. Amazingly, if they are rolled together, the distribution of sums is equivalent to that of two regular dice labeled 6-5-4-3-2-1.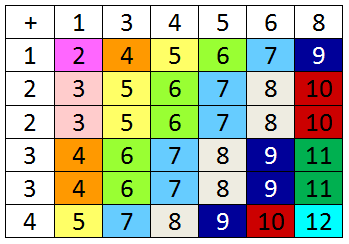 Sicherman dice were discovered by George Sicherman of Buffalo, NY and are sometimes called "crazy dice." Each die in the set is 1.2cm x 1.2cm x 1.2cm.
I also sell 8-sided Sicherman dice in three different versions:
1
,
2
, and
3
. For more math fun, see also
non-transitive dice
.