Designing for better colors in Full Color Sandstone
Introduction
Full Color Sandstone (FCS) is our only material which offers full color capabilities, and is a great choice for miniatures, memes, and other visual models.
How does full color 3D printing work?
Like many of our printer technologies, our full color sandstone printers work by laying down thin layers of powder and selectively binding this powder together to produce solid parts. Unlike our other printer technologies, this printer also uses a set of CMYK printheads to color the part while binding the powder together to produce the colorful solid parts.
Designing for Better Color
Just like in any '2D' color printing process, printed colors may differ from the ones on your screen. Each pixel on your screen is composed of Red, Green and Blue colors (RGB), while full color sandstone printing uses Cyan, Magenta, Yellow and 'Key' (Black). The translation from one set of colors to the other will shift colors slightly, and makes some bright colors more subdued.
When designing for this material, there are a few tips that can help you to produce better colors:
CMYK is best at producing bright, well defined colors. To optimize your results, it's also best to have hard edges to your colors, limiting gradients and shading. Complex colors like those you'd see in photorealistic models are difficult to produce, while clearly defined bright colors will "pop" and look great.
Some colors are just hard to print: brown, brown tones, and flesh tones are difficult to produce and sometimes inconsistent because these colors require mixing all 4 inks (CMYK).
Consistent Wall Thickness makes Consistent Color
When you upload a full color model to Shapeways, you define the color on the surface - after all, a texture map only defines the color on the outside, not inside the object. Consequently, our printers only apply color to the outside of your prints. This is shown in the cross section below: the color permeates about 1 mm into the object.
After printing is complete, we coat each model in a cyanoacrylate solution - superglue, basically. This coating increases the strength of the model, and increases the richness of the colors. If your model varies significantly in thickness different sections of the model will absorb different amounts of this solution. As a result, you will see slight color variations across the model, especially with massive models. If you make your model hollow and keep the wall thickness consistent at about 3mm, the color will be more consistent and the model will be less expensive. If your model requires variable wall thickness, it's best to slowly transition between thickness to avoid sudden shifts in color saturation.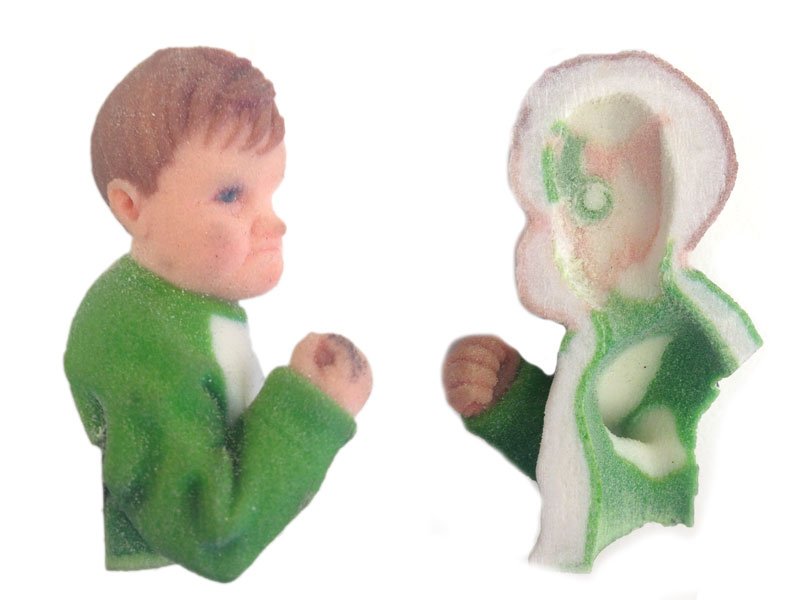 Technical Resolution vs. Actual Resolution
Another issue to keep in mind is that we work with a powder that absorbs ink. Even though the resolution of the inkjet printhead is around 300DPI, the effective resolution of the transferred texture map is probably closer to 50DPI. Keep this in mind when designing fine details, especially on small models.
Post Production and Finishing Techniques
Several members of our community have experimented with post-processing FCS to enhance the quality and color of prints. Search through our post production section for many examples, and have a look at this thread detailing different methods and tests on FCS.