Flying megaphone with searchlight for Phantom 4
Hello first responder! I designed these accessories to help first responders do their job more effectively. All one needs is a DJI phantom 4 and some off the shelf parts along with some Shapeways 3D printing to create a flying megaphone and controllable searchlight! The way it works is, there is a 10 watt loudspeaker connected to a 10 watt audio amplifier, which is receiving audio signals via a class 1 Bluetooth communicator that has a range of 1000 meters. To increase the range a small radio could be used or in areas with cellphone coverage a small cellphone can be used.  Also delivered via Bluetooth or radio or cellphone is a means for controlling the angle of the loudspeaker. It can rotate 90 degrees for talking to people on the ground directly below or out at a distance via other positions between zero and 90 degrees. This works by DTMT (dual tone multi frequency) these are the sounds you hear when you press the keys on a phone. These multi-tones are sent by the tablet computer controlling the Phantom, or a cell phone or any old phone. On board the Phantom is a 4 channel tone decoder, which decodes the DTMF signals and then activates various accessories and devices on the Phantom. In this case it is connected to a gear-head motor, which rotates the megaphone to any position between zero and 90 degrees. In addition to the megaphone there are two powerful spotlights attached on both sides of the megaphone that can be directed to any position between zero and 90 degrees. There is also a powerful beacon light with a bendable mast for spotting the Phantom at a long range in both daylight and at night.  In the current configuration all four channels are used, which are, searchlight / loudspeaker assembly up and a second channel is used for going in the opposite direction.  The other two channels lets one turn the beacon light on and off as well as turn the searchlights on an off.  

This is super simple to build!  It's just a matter of wiring a few off the shelf components together. You'll need to solder some wires to the gear motor and the speaker though, so you'll at least need to know how to do basic electronics soldering.  By the way, I'll build this for you if you'd like for a small flat assembly fee of $50.  You'll need to pay for shipping, 3D printing and the components.  On the other hand, perhaps you have ideas for modifications that you'd like me to make to this.  In that case, I'll do any of those modifications free of charge.  There are all kinds of directions this could go in!  For example, a drop solenoid could be added to drop items.  I was going to add this, but I ran out of time since I made this as a contest entry for this Search and Rescue 3D Printing' Design Contest.  Interesting things that can be dropped are, florescent markers for helping mark areas or leading ground personnel to an area, or at night blinking LED light markers, which are a common off the shelf item known as fairy lights used as landscape decorations.  Or, a small short range Bluetooth transceiver could be dropped at the location of a distressed person so that a communication channel could be opened.
Here are the parts you'll need to complete this flying megaphone with searchlight.
Bullet LED - Tiny High Output Landing/Strobe Light Or LED Light From CRAZEDpilot
These are used on full size aircraft for taxi and landing, so they should be great for a DGI Phantom as well. The cost is $7.00. Two needed.
Weight: 28.06 grams
Voltage:11-14.5v DC
Current draw:140mA
Lumens: 250
http://www.crazedpilot.com/bullet-led-tiny-high-output-landing-strobe-light-or-led-light/#parentVerticalTab1
DS-30 Drone Strobes > DS-30 WHITE STROBE From North American Survival Systems
Phantom owners have commented about how much they like these beacon lights! They say they can see their Phantoms from over a mile away in daylight! Perfect! The price is higher than I'd like to see, but they are only 10 grams, which almost makes up for the price. The cost is $50. One needed. In addition to white they come in infrared, blue and red.
Weight: 10 Grams
Housing: Anodized Aircraft Aluminum.
Color: WHITE
Lens Cover: Polycarbonate.
Flash rate: 60/minute.
Viewing Angle: Full upper hemisphere.
Luminous Intensity: 200 Candela.
Tested Night Visibility: Up to 10 Nautical Miles.
Tested Day Visibility: UP to 1 Nautical Mile
Light Source: 4 LED
Input power: 4.2 to 11.5 VDC
Height: .840 inch
Diameter: 1.225 inch
http://www.northamericansurvivalsystems.com/DS-30-WHITE-STROBE_p_60.html?redirect=1
HiWave BMR12 Compact 2" Full-Range Square Speaker 12W From Parts Express
Driving this speaker at 10 watts should blast the area with whatever audio messages any first responder needs to disperse. The cost is $6.00. One needed. This is a closeout item, but there are other sellers selling it so it will be around for a long while.
Weight: 90.71 grams
Size: 2 inches square
Power Handling (RMS):12 Watts
Power Handling (max): 24 Watts
Impedance: 8 ohms
Frequency Response: 150 to 16,000 Hz
http://www.parts-express.com/hiwave-bmr12-compact-2-full-range-square-speaker-12w-8-ohm--299-208
PAM8610 2x10W Class-D Audio Amplifier Board Also From Parts Express
This tiny audio amplifier will use one of its 10 watt output channels to drive the speaker. The cost is $11.80. One needed.
Weight: 22.67 grams
Power output: 2 x 10 watts @ 8 ohms
Frequency response: 20 to 50,000 Hz
Signal input: 3.5 mm stereo jack
Power requirements: 7-15 VDC
Dimensions: 1.57" x 1.26
http://www.parts-express.com/pam8610-2x10w-class-d-audio-amplifier-board--320-604
NTE European Terminal Strip 25-E2000 12-Pole 20A Also From Parts Express
Just to make things a little easier this terminal block lets one connect the various wires together without soldering or wire crimping connectors.  Only two of the 12 terminals are used.  The cost is $1.28. One needed.
Weight:  0.37 grams
http://www.parts-express.com/nte-european-terminal-strip-25-e2000-12-pole-20a--090-830
Bluetooth Intercom From Shark Motorcycle Audio
This super lightweight class 1 Bluetooth transceiver system can transmit and receive in full duplex up to 1000 meters. Just the thing needed for sending voice and DTMF commands. The cost is $93.99. One needed. Some of the items in the kit are not needed like the helmet attachment items. And a few of the items most people will already have like the headset and USB chargers. Consequently, one can shop around and save. For example, one can buy just the transceivers from their eBay store here: http://www.ebay.com/itm/shark-Intercom-Receiver-for-SHKLXMBT688IL-only-/201549908292?hash=item2eed4f8944:g:Uf8AAOSwLpdW98l4 Two transceivers are required. Other items needed are the two 3.5 mm to USB cords for charging and two USB chargers. Also needed is one of the 3.5 mm to 3.5 mm cords. And finally, one 3.5 mm headset with microphone is needed.
Weight per transceiver: 42.52 grams
RF Output Power: 0 dB
Frequency range: 2.45 to 2.479 GHz (DSSS)
Battery capacity:NiMh rechargable batteries with 400 mAh each (estimate 7 hours use time)
Distance range: 1000 m
Frequency Audio response: 30 Hz to 22 KHz
https://www.sharkmotorcycleaudio.com/shark-shklxmbt688il-motorcycle-snowmobile-bluetooth-multi-interphone-headsets-6-riders-intercom-bluetooth-set-great-for-skiing
4 CH DTMF Decoder From eBay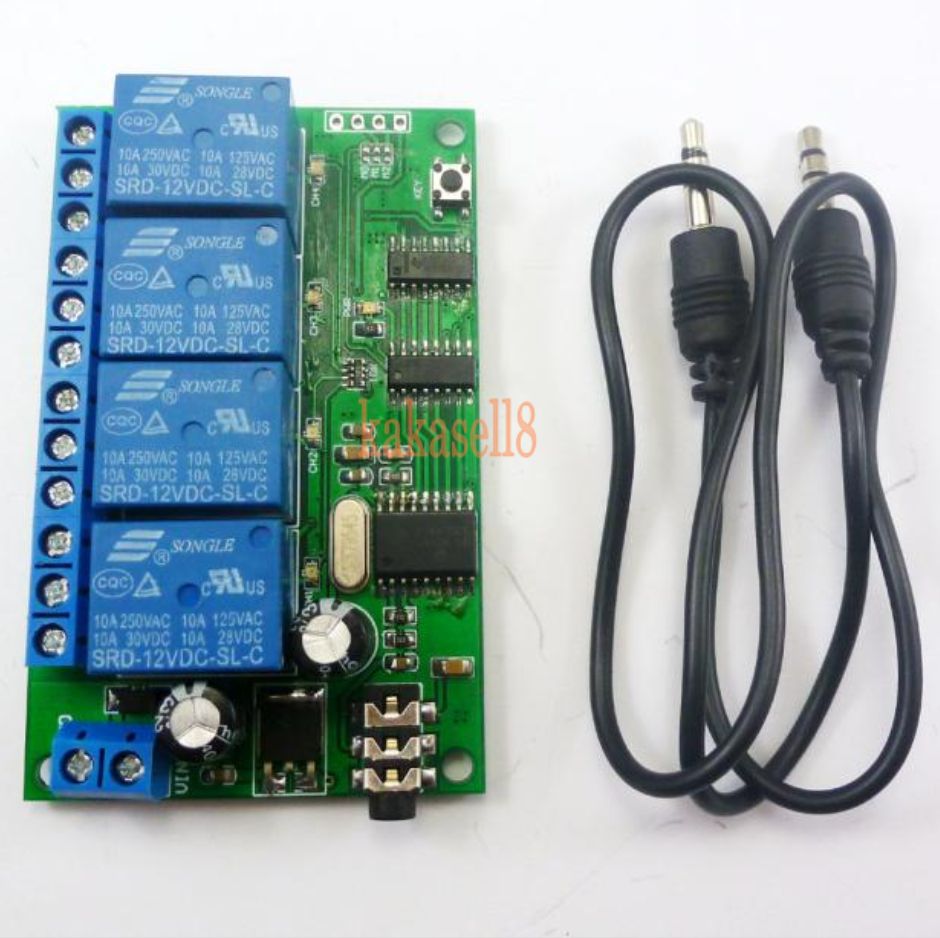 This module will convert the dual tone multi frequency tone that can be generated by cell phones, cordless phones, tablet computers, laptop computers, etc. and convert them to digital signals that can then turn on any one of the blue boxes you see on the board, which are electronic switches. So in other words, push a number, one through four, on your phone and you can turn things on or off from 1000 meters away. You wont need cell phone reception, it will transmit over the Bluetooth connection of the Shark intercom.  I would like to make a new design of a tone decoder board like this as this off the self board is on the heavy side.
Weight: 59 grams
Working voltage: DC 12V
Operating Current: Standby 11-13 MA, 1 relay "open" 44MA, 2 relays "Open" 77MA, 3 relays "Open" 110MA, 4 relays"open" 140MA Eight modes of operation: Non-locking (Momentary ), self-locking (Toggle),inter-locking (Latch), 5/20/60/120/250-second delay Maximum load: 10A / 250VAC, 10A / 125VAC, 10A / 30VDC, 10A / 28VDC, 10A / 12VDC
Size: 50 * 80 * 19.5mm
http://www.ebay.com/itm/4-CH-DTMF-MT8870-Audio-Decoder-Smart-Home-Controller-Voice-Mobile-Phone-Control-/112000160613?hash=item1a13bad365:g:H1cAAOSw~oFXLqpm
Micro Gear Motor From Firgelli Automations
No need to buy the MB7 bracket. This micro gear motor is used to move the searchlight up and down. The cost is $14.99. One needed. When making the purchase select 12 volts and 210:1 gear ratio by clicking their respective buttons on the order page.
Weight: 9.6 grams
Torque: 344 g cm
Speed: 55 rpm
https://www.firgelliauto.com/products/micro-gearmotor#ptab-specifications
Nano-Tech 180mah 2S 25~40C From GorillaBobs RC
This tiny Lipo (lithium polymer) battery packs a punch! It can continuously provide 10 amps of power at 11.1 volts for 2.1 minutes! That's a lot for a small battery! We only need around 1.2 amps, and that would be if the searchlights, the beacon light and the speaker were running all at the same time. Consequently, this little battery can power everything at the same time if needed. It has a enough capacity to run the searchlights for 27 minutes. If the megaphone is used during that time the run time of the lights would be less, but I cannot think of situations where one would be blasting the megaphone continuously. The cost is $6.00. One needed.
Weight: 13 grams
Capacity: 180 mAh
Voltage: 11.1 V
Maximum continuous discharge rate: C20
Length: 35 mm
Height: 10 mm
Width: 20 mm
http://www.gorillabobsrc.com/c...
Pan Head, 18-8 Stainless Steel, 6-19 Thread, 1" Length
These screws are designed for use with plastics. They'll be used fasten the airframe to the envelope of the Phantom 4. The cost is $13.48 per pack of 50. One pack needed.
Weight:  1.64 X8
Pan Head, 18-8 Stainless Steel, 6-19 Thread, 1" Length
http://www.mcmaster.com/#96001a274/=13aj3g0
18-8 Stainless Steel Torx Thread-Forming Screw for Plastic
They'll be used fasten a few of the accessories. $10.89 per pack of 50. One pack needed.
Weight:  1.03 grams X7
Pan Head, 18-8 Stainless Steel, 6-19 Thread, 1/2" Length
http://www.mcmaster.com/#96001a264/=13at0e4
Specifications
Weight
1X LED Lights: 56.12 grams
1X Beacon light: 10 grams
1X Speaker: 90.71 grams
1X Audio Amplifier Board: 22.67 grams
1X Terminal block:  0.37 grams
1X Bluetooth transceiver: 42.52 grams
1X DTMF MT8870 Audio Decoder: 59 grams
1X Battery: 13 grams
1X Air frame: 201.44 grams
1X Gear motor: 9.7 grams
1X Screws: 20.34 grams
1X 3.5 mm audio patch cable: 6 grams
1x Miscellaneous wiring:  5 grams
Total 536.87 grams. The Phantom 4 can easily handle 536.87 grams of payload since the absolute maximum lifting capacity is nearly a kilo at 907.18 grams.
Voltage
LED Light: 11-14.5v DC
1X Beacon light: 4.2 to 11.5 VDC
1X Speaker: N/A
1X Audio Amplifier Board: 7-15 VDC
1X Terminal block:  N/A
1X Bluetooth transceiver: N/A
1X DTMF MT8870 Audio Decoder: 12 VDC
1X Battery: N/A
1X Air frame: N/A
1X Gear motor: 12 VDC
Current
2X LED Light: Per light 140 mA total 280 mA
1X Beacon light: 37 mA
1X Speaker: N/A
1X Audio Amplifier Board: 869.56 mA
1X Terminal block:  N/A
1X Bluetooth transceiver: N/A
1X DTMF MT8870 Audio Decoder: Up to 140 mA
1X Battery: N/A
1X Air frame: N/A
1X Gear motor: 90 mA
Construction
There's not much to do to build this.  Just connect the components together using the following diagram.  This image is huge.  To see it full scale you can download it to your computer and look at it with an image editor.  Or, if you're using Firefox as your web browser you can right click on the image and select view image from the popup menu.  From there you can click on the image to zoom in.