Necklace pendant from the "Snow" series, the first series in the In A Word Collaborations project by 12 AM Design. Graceful falling curves surround an intricate snowflake center. Celebrate the winter season with this one-of-a-kind original design!
PLEASE NOTE: Chain is not included. Chain recommendations are below.
"Snow" Necklace Pendant, Design by ANNA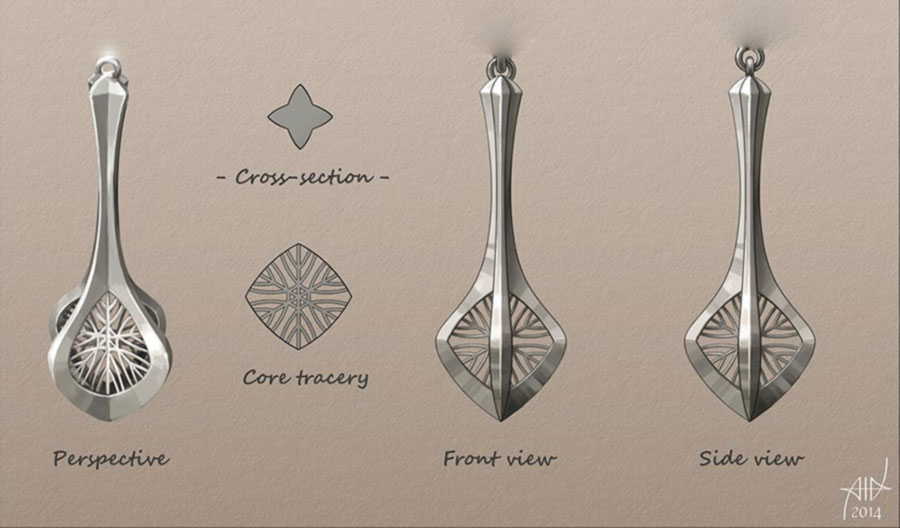 Design an illustrations created by artist Anna.
The
In A Word
Project
The In A Word Collaborations project brings artists together to create new products and pieces by freeing the imagination first. All projects start with the ideas and sketches of an individual artist based on their interpretation of a concept, with no restrictions on their ideas whatsoever. The sketches are then honed through design processes and a group with specialized skills, figuring out how to bring their ideas to reality and create completely unique, never-before-seen pieces.
By starting with artists and designers and not boxing them in with tech specs, freeing them from the need to tinker with technical skills and the computer, the In A Word project hopes to bring fresh and unique ideas and designs to people through raw creativity and talent.
In A Word project's first series, Snow, ushers in the winter season and asks artists to bring their own interpretation and meaning to the word "Snow". Their ideas are then taken and transformed into pieces of fine 3D printed jewelry. By using the 3D printing process, ideas that would be impossible to make otherwise can be made, expanding the possibilities for artists to express their concepts and create jewelry that is also art.
If you are interested in participating in the In A Word project, please email daniel@12amdesign.com.
Chain recommendations:
Note that depending on the chain, you may also need an extra jump ring to attach the pendant (thicker chains will probably need a larger jump ring to be attached to the pendant so that it can hang on the chain correctly).
Sterling Silver, 18" or 20":
1.5mm Rope http://www.amazon.com/Diamond-Sterling-Silver-Chain-Necklace/dp/B002NVT1I6/
2mm Rope http://www.amazon.com/Sterling-Silver-Diamond-cut-Chain-Necklace/dp/B00023JMYU/
1mm Curb http://www.amazon.com/Diamond-Sterling-Silver-Chain-Necklace/dp/B00BJZZNC0/
1mm Round Snake http://www.amazon.com/OMEGA-Sterling-Silver-Nickel-Necklace/dp/B009HC2I0W/