Nylon 12 [Versatile Plastic] is one of the most popular 3D printing materials available at Shapeways, with finishing options now expanded into Nylon 12 [Smooth] to offer the smoothest finish yet. Both White Smooth Versatile Plastic and Black Smooth Versatile Plastic are excellent options for customers seeking all the aesthetics and appeal of mass production technology like injection molding—without the additional time or expense involved in manufacturing.
Vapor Smoothing
Accompanied by new choices with Nylon 12 [Versatile Plastic] Smooth, Shapeways customers can design for even more complex structures—whether in product development or for end-use parts. Shapeways achieves this unique finish for Nylon 12 [Versatile Plastic] Smooth with vapor smoothing techniques. With this post-processing method, rough surfaces that may be present after SLS 3D printing can be smoothed with chemical solvents as parts are placed into a sealed chamber filled with vapor.
Vapor smoothing chemicals cause a melting process which improves the surface and the performance of the part—including those with internal cavities—sealing in a soft shine. The Nylon 12 [Versatile Plastic] Smooth finish is watertight and suitable for use with functional 3D printed products as long as they do not have interlocking parts.
Nylon 12 [Versatile Plastic] – A 3D Printing Standard
3D printing was once a wild frontier of innovation, initially offering advanced but limited materials and technology in a futuristic, emerging industry. Quickly though, 3D printing exploded into a billion-dollar machine, bringing forth a new and exciting world for design and production; in fact, with 3D printing, parts could suddenly be produced through additive manufacturing that simply were not possible before.
With such an incredible buffet of choices available now, choosing the correct material can sometimes be the most difficult part of the process. Thermoplastics like Nylon 12 [Versatile Plastic] continue to play a starring role in the additive manufacturing realm whether for production of rapid prototypes or high-performance products. Suffice to say that this particular material is aptly named, with Nylon 12 [Versatile Plastic] surpassing a large volume of other 3D printing materials despite a wide range of selling points for most.
Recommended for a wide range of applications, there is a lot to know about Nylon 12. The overall appeal stems from excellent mechanical properties to include tensile strength, durability for long-term use, and resistance to abrasion, fatigue, and stress. And while the new White Smooth Versatile Plastic and Black Smooth Versatile Plastic offer the smoothest results yet, other very popular 3D printing finishes are available too—including Natural, Processed, and Premium.
Shapeways Customers Inspire with Nylon 12 for So Many Applications
Demonstrating the wide array of uses for Nylon 12 [Versatile Plastic] and all the choices in finish, Shapeways customers choose this material for 3D printing with Selective Laser Sintering (SLS) to make products like medical models, supplies, drones, luxury jewelry, and more—all taking advantages of the optional finishes.
3D Printed Medical Models
Uruguay-based Armor Bionics has channeled 3D printing into a technology capable not only of improving the quality of life for patients around the world, but saving lives too with their unique specialty: creating intricate 3D designs for medical models that are then 3D printed by Shapeways and used for diagnosis, training, and treatment. Armor Bionics CEO Bruno Demuro is dedicated to offering medical professionals better solutions for surgical planning:
"We've seen the benefits and how much treatment affects the patients," said Demuro. "It betters the outcome of every single surgery where it is applied."
3D Printing in Drone Technology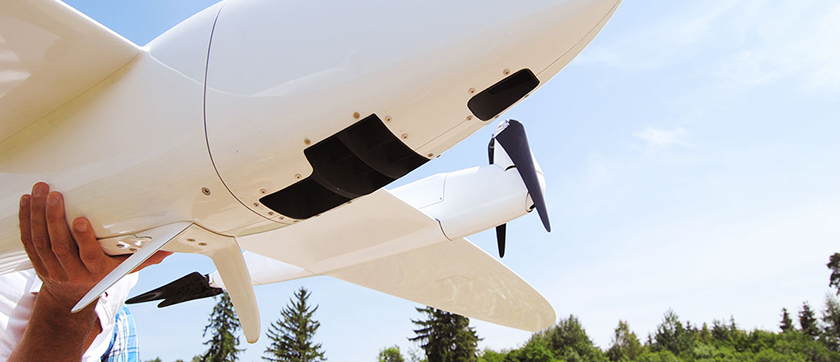 The aerospace industry leads in the use of 3D printed parts also, and has for decades—far before anyone even knew what the technology was about. Drone technology has taken off in recent years, with a special push via additive manufacturing—allowing engineers not only to create innovative designs but also use lightweight, durable materials with complex geometries. This is especially true for companies like Munich-based Quantum-Systems, specializing in advanced eVTOL (electric vertical take-off and landing) drones. Using 3D printing for prototyping and manufacturing of functional parts since their inception in 2015, Quantum Systems is able to make lightweight parts, while also taking advantage of 'synergy effects' in reducing part counts and assembly.
"Only because of the fact that we have integrated this manufacturing method into our manufacturing and development process, have we been able to significantly reduce development time. For injection molded parts, we save around 10 weeks by using 3D printed samples to release the CAD data," said Florian Seibel, CEO of Quantum-Systems.
"The probability that these parts need a second loop of corrections is quite low in this way. For CNC-manufactured parts it is the same. We often just skip the first round of samples with 3D printed parts, which saves us three to four weeks. In general, I would say 3D printing saves us 20 to 50 percent of time, depending on which parts we design."
3D Printing in Jewelry Applications
3D printing has a long history with jewelry makers too, and especially at Shapeways. Again, demonstrating the wide range of popularity amongst industrial designers, customers like Groen and Boothman continue to use Shapeways services for 3D printing luxury jewelry like their custom Creatures design series, featuring unique cuff bracelets. The designers rely on the lightweight quality of Nylon 12 [Versatile Plastic], along with the strength and durability of the material.
"3D printing gives us a chance to explore new avenues and get away from the mass production paradigm," said Joanna Boothman.
Selective Laser Sintering with Nylon 12 [Versatile Plastic]
Selective Laser Sintering (SLS) is one of the originals in 3D printing technology, and remains one of the most powerful—especially with the ability to nest hundreds or even thousands of parts within any build. The average build size of an SLS 3D printer is around 300 x 300 x 300 mm with a layer thickness of 100 to 120 microns. Using materials like Nylon 12 [Versatile Plastic], the process begins as a thin layer of nylon powder is dispersed onto the build plate and then sintered layer by layer until the desired structure is complete.
Supports are not required in SLS 3D printing, and this means that designers are granted incredible freedom when creating 3D models because they don't have to compensate for support structures. The lack of supports also makes the job of 3D printing engineers much easier at the other end as models can be nested easily within each print build and there is not the potential for damaging parts in post-processing with support removal.
Dyeing of 3D printed parts is possible too, along with choosing finishes and different options in post-processing for Nylon 12 [Versatile Plastic]. The material is naturally white but also available in the following hues: Black, Pink, Red, Orange, Yellow, Green, Blue, and Purple.
About Shapeways
Shapeways offers over 90 materials and finishes, and is always interested in sourcing other materials customers may be interested in using too. Contact Shapeways now to enjoy the benefits of advanced technology and materials for manufacturing creations with accuracy, complex detail, and no minimum or limits in terms of mass customization or single part orders.Shapeways has worked with over 1 million customers in 160 countries to make over 21 million parts! Read about case studies, find out more about Shapeways solutions, and get instant quotes here.