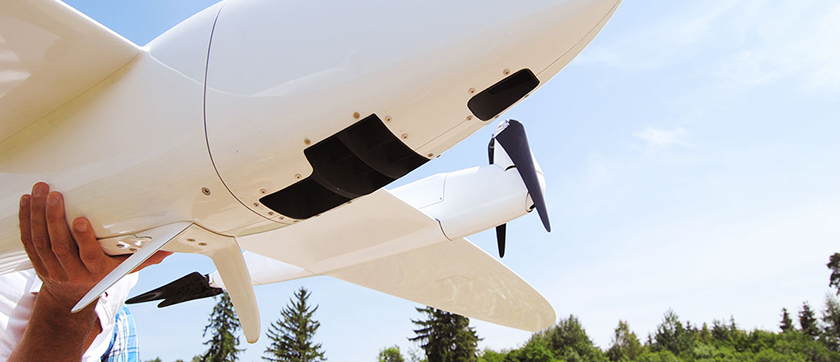 Five Takeaways from Shapeways-sponsored webinar with Quantum-Systems
During our recent webinar with Quantum-Systems, attendees learned about the most popular applications for drones as well as how additive manufacturing can optimize the design and production of high-performance yet lightweight parts for this fast-growing industry. Below are five takeaways from the informative session:
1. Today's drone market is taking off
The global market for commercial drones, which was valued at $13.4 billion in 2020, is expected to expand at a compound annual growth rate of 57.5% through 2028, according to Grand View Research. Long-time manufacturing partners Shapeways and Quantum-Systems are at the forefront of advancing drone technology by transforming digital files into a variety of electrical vertical takeoff and landing (eVTOL) parts, Available in fixed-wing and fixed wing/tri-copter models, Quantum-System's innovative drones are used in professional and government applications for mapping, inspection, surveillance, agriculture, industry and monitoring.
2. Successful drone design is a 'weighting' game
Every gram counts when building drones, so reducing part weight is critical. After exhaustive prototyping and experimentation, Quantum-Systems achieves the lightest weight possible by taking full advantage of iterative prototype testing. For example, the company optimized the design of a shield for the antenna mounting on one of its drones. The original part weighed 23 grams—exceedingly hefty by drone standards. Eventually, through design improvements aided by 3DP, the part was transformed into a flexible, honeycomb design that was produced by Shapeways. The result saved eight grams, which is impressive in the drone world.
3. 3D printing delivers unbeatable turnaround on parts production
When Quantum-Systems is ready to place an order with Shapeways, the typical turnaround time is only two weeks, according to Sebastian Sattler, systems engineer at Quantum-Systems. "That's definitely fast," he said. "In addition, the tolerances are always much better with Shapeways parts. We need really well fitting prototypes for serious production." Quantum-Systems reports saving up to 50% in time, depending on the part. Fast iterations in development also saves time in refining and finalizing drone prototypes.
4. 3D printing reduces cost of developing quality drone parts
The ability to reduce cost is another major advantage of additive manufacturing. Relying on 3D printing has enabled Quantum-Systems to reduce design and production cycles for all its drones, from the initial design phase and fast iteration of prototypes to preparing fully vetted parts that become functional end-use components. "Perfecting our prototypes via 3D printing with Shapeways saves us tens of thousands of dollars in pre-production and testing costs," added Sattler. Additionally, Shapeways ensures that Quantum-Systems has optimized each part design before spending tens of thousands of dollars on injection molding.
5. 3D Printing advances product designs through part consolidation
One of the hallmarks of 3D printing is the ability to produce highly complex parts with fewer moving pieces. A year ago, one of Quantum-Systems' large antenna and transceiver mounts was constructed of 20 pieces. Now, thanks to steadily consolidating components and optimizing the parts via 3D printing, the mount is produced as a single unit. Not only is it superior in performance and lighter in weight, but Quantum-Systems' Sattler reports that part consolidation delivers superior performance and reliability for his customers. "3D printing, besides being super fast and inexpensive, lets us produce nice, modern shapes that always look bionic and are lightweight," he added. "And that's a good advantage."
Contact Shapeways now to enjoy the benefits of advanced technology and materials for manufacturing creations with accuracy, complex detail, and no minimum or limits in terms of mass customization or single part orders. Shapeways has worked with over 1 million customers in 160 countries to make over 21 million parts! Read about case studies, find out more about Shapeways solutions, and get instant quotes here.