The designers at Nervous System have outdone themselves yet again, this time 3d printing a bright-red dress inspired by flower petals, feathers and scales. The design was created in preparation for the upcoming #Techstyle exhibition at The Museum of Fine Arts, Boston.
Nervous System's newest Kinematics Petal Dress features over 1600 unique facets and 2600 hinges, creating a directional landscape of overlapping, petal-like forms. The petal-like textile appears to behave like fabric, delicately molding itself to the contours of a body.
While this is not the first 3D printed dress created by Nervous System, it is the first of their dresses to utilize a more sophisticated set of textiles. Historically, we have seen the tessellated triangle structures that makes up the 3D printed Kinematic garment. Yet, the new dress features a variety of overlapping plumes protruding from each triangle framework, creating the petal-like textile.
With new textiles, emerged new challenges. Creating each petal shape is not only sculpturally ambitious, but it poses a whole new challenge that demanded the reconsideration of how to actually fit the dress into the build platform of the 3D printer.
The limitations of 3D printing require that each 3D model fit into a specific bounding box, which optimizes for efficiency when printing. With previous dresses, Nervous System had developed software which applies smart-folding techniques to each garment, compressing their size for efficient 3D fabrication, and ultimately unfolds into their intended shape post-printing.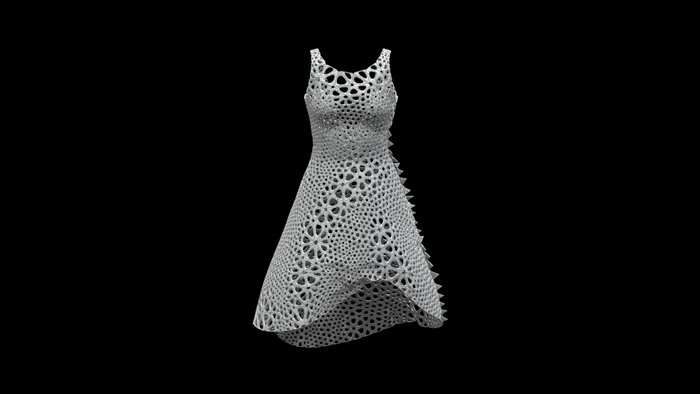 Image courtesy of Nervous System
However, the structural differences of the new petal textile created compression and folding challenges for the team.
"Producing dresses with overlapping scales gave us new challenges and opportunities. Our previous garments had been printed folded to make them efficient to print. But, the overlapping scales don't fold efficiently. They can really only bend in one direction which prevents us from employing our previous compression strategy." – Jessica, Nervous System

Image courtesy of Nervous System

"On the other hand, the overlapping nature of the shells makes it possible to have hidden snap-together connections.  This allows for the creation of reconfigurable garments. In the case of our dress, we created a 3-in-1: your dress can be a top, a skirt or a dress." – Jessica, Nervous System

Image courtesy of Nervous Systems
Breaking the dress apart into three pieces would only be part of the solution. In order to print the dress as efficiently as possible, the garment needed to be further consolidated into a bounding box that would minimize space utilized in the printer. Since it could not be folded, they developed an entirely new method of collapsing the model: why not roll it up like a carpet?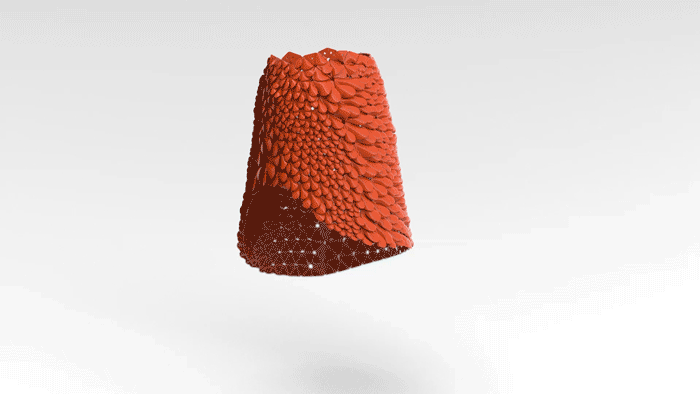 Image courtesy of Nervous System
After months of prototyping, developing and prep work, the piece was finally ready to send to our selective laser sintering 3D printers in Long Island City.
As you can see, the Kinematic Petal dress is not just another springtime, floral inspired dress. It is a feat of engineering, a work of art, and another breakthrough for the Nervous System collection.
Naturally, the Nervous System team didn't stop with just the dress. They've also created a jewelry line of petal inspired products, which is now available in their shop.

If you're interested in learning more about the process of creating the dress, check out Nervous System's Blog and find out more. And if you're in the Boston area, be sure to stop by the Museum of Fine Arts between March 6  through July 10, 2016 to see the piece in real life.
Click here to follow Nervous System and stay up to date with their newest creations on Shapeways!