New guy here. Although I've been playing around with 3D modeling since the mid '90s and I've been aware of 3D printing for a few years now, this is the first model that I've bothered to print out.

This is an HO scale (1:87) dry bulk trailer that I'm about to have printed. When I first uploaded the model, the price was pretty steep, so I did everything I could to minimize the cost. I hollowed out the tires, rebuilt the tank with thinner walls (from 2mm to 1.3mm.) And I packed all the parts as close as possible to reduce the amount of sprue needed. I managed to cut the volume down from 22.2 cm3 to 17.6cm3.

One thing I'm wondering about is whether Frosted Detail will be good enough, or will it require FUD. Since I'm going to be offering it for sale, I want to be able to let people know if FD is no good, so I think I'll order it in that material. But before I do, I thought I'd check here and see if people with experience with FD could give some input. The overall length of the trailer is 15cm. The piping that runs under the trailer is 2 mm thick. The handrails are 1mm.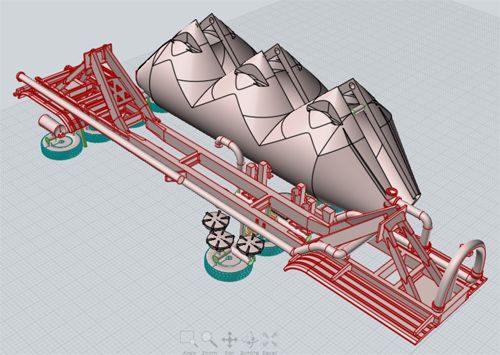 Steve S